Luxury Home on the edge of Great Oyster Bay, East Coast, Tasmania
This majestic home of generous proportions is the jewel in the crown at Hamptons on the Bay.  The House is perched on coastal cliffs less than 25 m from the edge of Great Oyster Bay.  All bedrooms, and even one of the ensuites, have ocean views.
The building was formerly a restaurant known as "Kabuki by the Sea", but has been lovingly transformed by the owners into the unique luxury home you see today. The House has been decorated with contemporary and antique furnishings to provide our guests with a luxurious but relaxed "real home" feel that is both graceful and elegant. We hope you agree.
With approx 320 sqm of internal living space, it provides guests with the convenience of a large communal living room/entertainment hub/kitchen/dining and sitting area and daybed, whilst two suites incorporate private sitting areas for that special time alone.
Being on Tasmania's East Coast, the House will entertain you with the most spectacular sunrise and moonrise over the Hazard Mountains, Freycinet Peninsula and Great Oyster Bay.  During the day the House provides an ever changing vista of natural beauty as the water transitions through its multitude of hues of blue and aquamarine. With its own private balcony and decking area, guests have unsurpassed access to the pristine natural environment.
Winter time with the wood fire burning turns the House into a welcoming haven as the raw beauty of the coast and nature's elements are at play outside.
Please allow us to share this unique and beautiful part of Australia with you.
House Features
Boutique luxury house and private retreat for 3 couples or families.
Waterfront location on the edge of Great Oyster Bay
Sweeping views over Freemans Beach to the Hazards, Freycinet Peninsula, Maria Island and Schouten Island and Mayfield Bay
Tastefully decorated with a blend of modern and antique furnishings
2 bedroom suites with king beds, sitting area and ensuite
 1  smaller bedroom with 1 king bed and ensuite. The beds in this room can be made into 2 king singles.
 2 x Airconditioned bedrooms
Chef's kitchen with Neff cooking appliances, dishwasher, dual ovens, 520l french door fridge, microwave, toaster, kettle  and breadmaker provides guests with the flexibility of self-catering and preparing gourmet meals
Nesspresso coffee pod machine.
Complimentary starter pack of tea, coffee and hot chocolate.  Additional items available for purchase
Pantry with complimentary supplies – oil, salt, pepper, spices, coffee pods
Fine crockery, glassware and cutlery provided
Hand crafted bespoke dining table with seating for 10 people
Large open plan TV, lounge and dining area with vaulted ceilings
Day bed and comfy sofas
Private BBQ area, decking area and outdoor setting
60 inch plasma TV with satellite (VAST) Free-to-air TV coverage
DVD player and surround sound AV receiver with Bluetooth connectivity
Quality towels and linen
Stovax high efficiency wood heater
Front loader (soap powder provided) and condensor dryer, no clothes line
12 minutes to Swansea township
Perfect for 3 couples or families seeking a relaxing and comfortable weekend away and as a base for exploring Tasmania's East Coast wineries and other attractions. The House is able to accommodate a total of 8.( 2 Rollaway beds can be made available)
Luxury Travel Guide – Asia & Australasia Awards 2017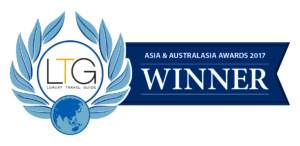 Hamptons on the Bay is very pleased to announce that they were independently nominated and were successful in winning the award for: Luxury Villa of the Year – Tasmania – AUSTRALIA for the 3 Bedroom House located in the Rocky Hills – Swansea region on the East Coast of Tasmania.
In conferring the 3 Bedroom House at Hamptons on the Bay with its prestigious award, the LTG had this to say:
"The Luxury Travel Guide Awards represent the pinnacle of hospitality achievement, championing the best in their respective fields; therefore to come out on top is truly an achievement you should be proud of.
We are delighted to pay tribute to and commend all those who have excelled in the industry. This year has seen an unprecedented number of shortlisted companies, providing strong competition in every category.
All winners of the Luxury Travel Guide Awards are subject to the same rigorous assessment criteria, carried out by our in-house professionals. This ensures only the most deserving firms and individuals walk away with one of these prestigious accolades and gain a place in our awards winners' guide, which will be distributed to over 500,000 professional & affluent people worldwide.  We have a massive sponsorship deal with Aspire so the guide will be found in airport lounges worldwide, as well as on cruise ships, a further 10,000 hotels, holiday specialists and tour providers."