Luxury Travel Guide – Asia & Australasia Awards 2017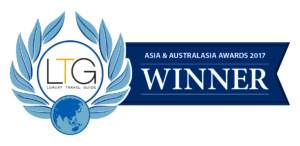 Hamptons on the Bay is very pleased to announce that they were independently nominated and were successful in winning the award for: Luxury Villa of the Year – Tasmania – AUSTRALIA for the 3 Bedroom House located in Rocky Hills – Swansea region on the East Coast of Tasmania.
In conferring the 3 Bedroom House at Hamptons on the Bay with its prestigious award, the LTG had this to say:
"The Luxury Travel Guide Awards represent the pinnacle of hospitality achievement, championing the best in their respective fields; therefore to come out on top is truly an achievement you should be proud of.
We are delighted to pay tribute to and commend all those who have excelled in the industry. This year has seen an unprecedented number of shortlisted companies, providing strong competition in every category.
All winners of the Luxury Travel Guide Awards are subject to the same rigorous assessment criteria, carried out by our in-house professionals. This ensures only the most deserving firms and individuals walk away with one of these prestigious accolades and gain a place in our awards winners' guide, which will be distributed to over 500,000 professional & affluent people worldwide.  We have a massive sponsorship deal with Aspire so the guide will be found in airport lounges worldwide, as well as on cruise ships, a further 10,000 hotels, holiday specialists and tour providers."